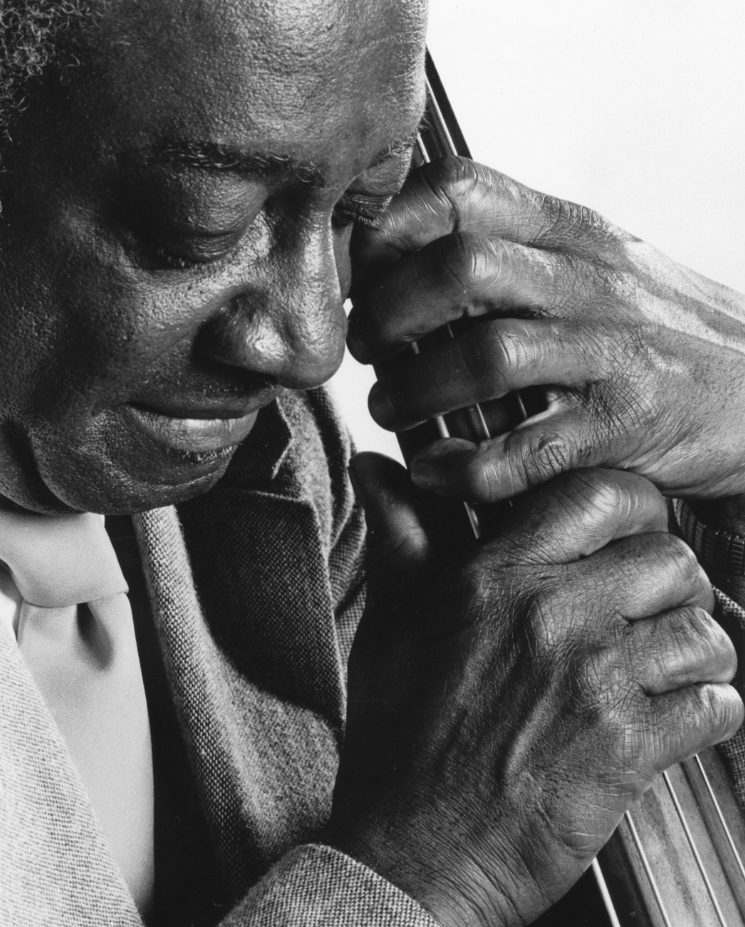 Milt Hinton's prowess as a photographer is only topped by his stature as a musician. He seems to know just the right moment to snap a picture. And he also seems to have an inner essence that allows him to say just the right things at the right times.
- Dizzy Gillespie
Milt Hinton is one of those rare people who has seen and lived most of the history of jazz, and he's been willing to share his experiences with generations of musicians who came after him.
- Quincy Jones
The "Judge" did his job. He meticulously documented everything that needed to be documented. And it's all there for people who are open to take it in.
- Branford Marsalis
Keeping Time:
The Life, Music & Photographs of Milt Hinton
In 2002, a documentary film Keeping Time: The Life, Music & Photographs of Milt Hinton was released. It was co-produced by David G. Berger and Holly Maxson and co-directed by them and Kate Hirson.
The film is narrated by Jeffrey Wright and features archival footage and extensive interviews with Milt as well as musicians, cultural critics, and concert producers, including Amiri Baraka, Ron Carter, Nat Hentoff, Gregory Hines, Quincy Jones, Christian McBride, Branford Marsalis, and George Wein. One hundred and eighty of Milt's photographs were used in the film, and Milt performed on most of its music.
The documentary is a perceptive visual and oral history of the music business, race relations, opportunity, and achievement in the 20th Century America. It embraces the rich life of a remarkable musician who recognized and recorded history as he lived it. The film captures Milt Hinton's extraordinary spirit and his solemn commitment to share what he learned and experienced with future generations.
Keeping Time had its international debut at the London Film Festival and premiered in the U.S. at the Tribeca Film Festival where it won the Audience Choice Award. It was broadcast on Independent Lens (PBS) and has been shown at film festivals in New Zealand and across the United States.
The film is not available commercially, but it can be screened for student audiences with a Q & A after the showing.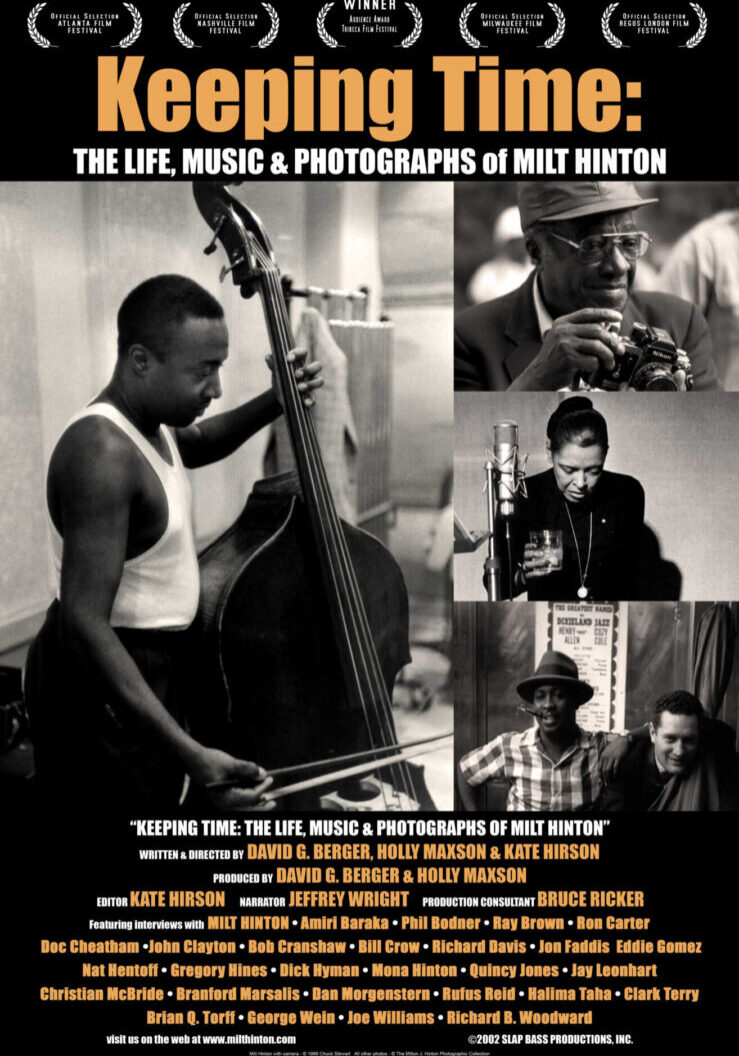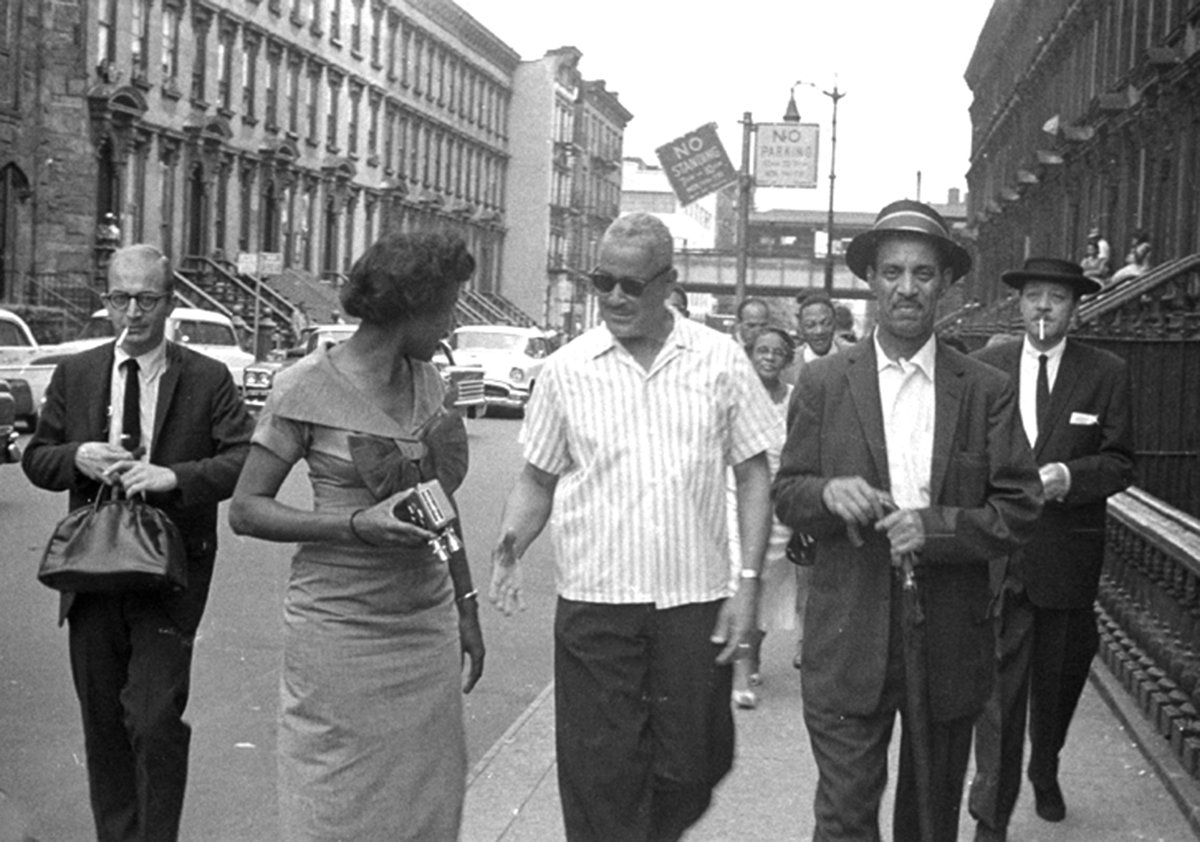 Mona's Home Movie Footage
used in "A Great Day in Harlem"
In 1958, Milt got a call to come to a special gathering for what turned out to be the now-famous Art Kane Esquire Magazine shoot of 75 musicians on a Harlem stoop. Milt sensed the significance of the event and brought two still cameras and an 8mm movie camera. Mona shot with the movie camera, and her home movie that day became the underpinning for Jean Bach's film, A Great Day in Harlem. Clips from Mona's home movie have also been used in documentary films and television news features.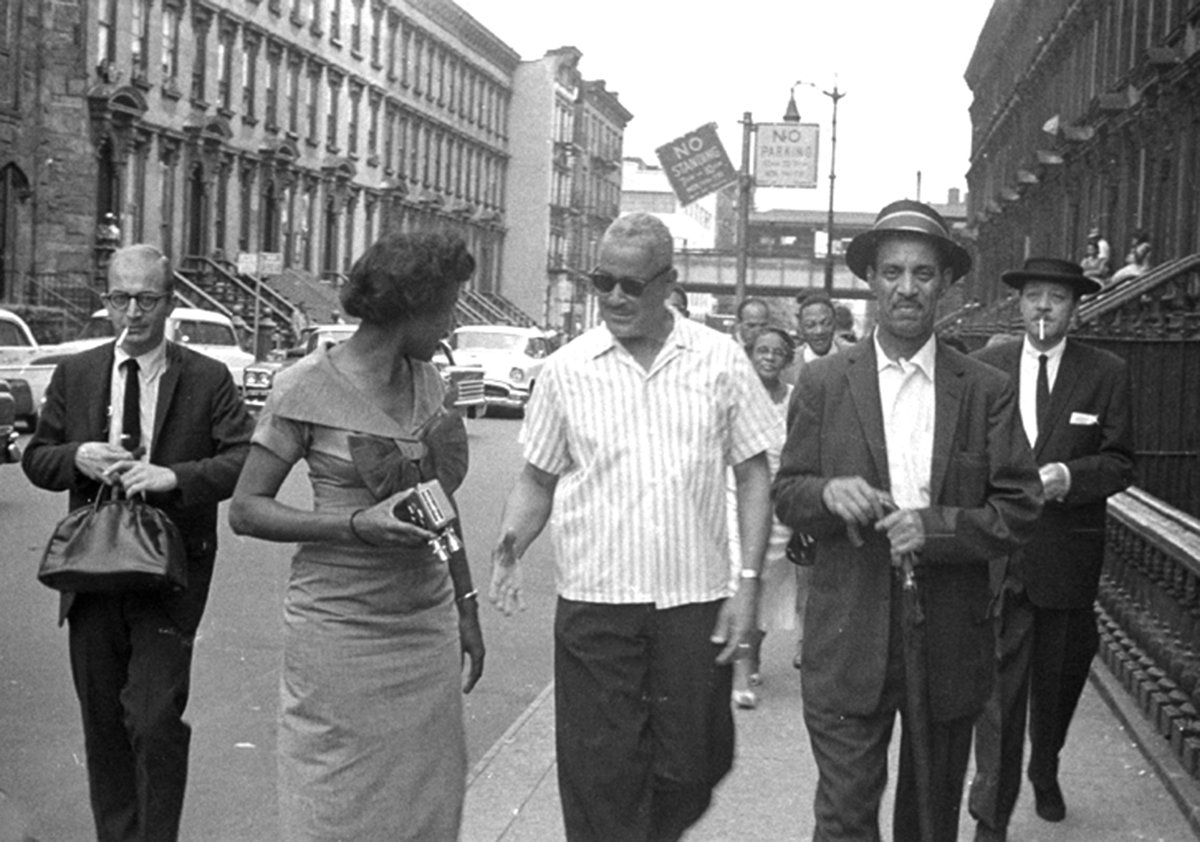 Bassist and Photographer Milt Hinton, Fresh Air with Terry Gross, June 15, 1982 WHYY-FM, 54 minutes
Capturing the History of Jazz. Fresh Air with Marty Moss-Coane, July 11, 1988, 21 minutes.
Milt Hinton: Bass Lines, a radio series produced by Fred Landerl, written by Phran Novelli, with interviews by David G. Berger. Originating at WRTI-FM, Philadelphia, and broadcast on 150 National Public Radio stations in 1990, this series consists of twenty-eight 3-minute programs. The series earned a Gabriel Award for Best National Short Feature.
Milt Hinton: The Ultimate Timekeeper, NPR "Jazz Profiles" November 12, 2008, Hosted by Nancy Wilson, 53 minutes.
Bibliography & Filmography
In addition to his own books, Milt's life, music, and photographs have been celebrated by notable authors that include Nat Hentoff, Gene Lees, Dan Morgenstern, and Gunter Schuller.
"Milt has appeared in numerous films and videos."
Click below to learn more.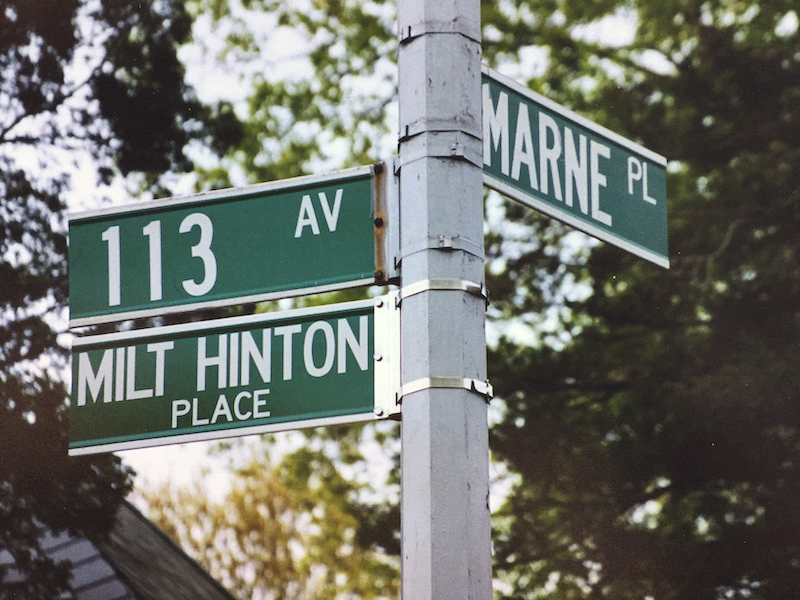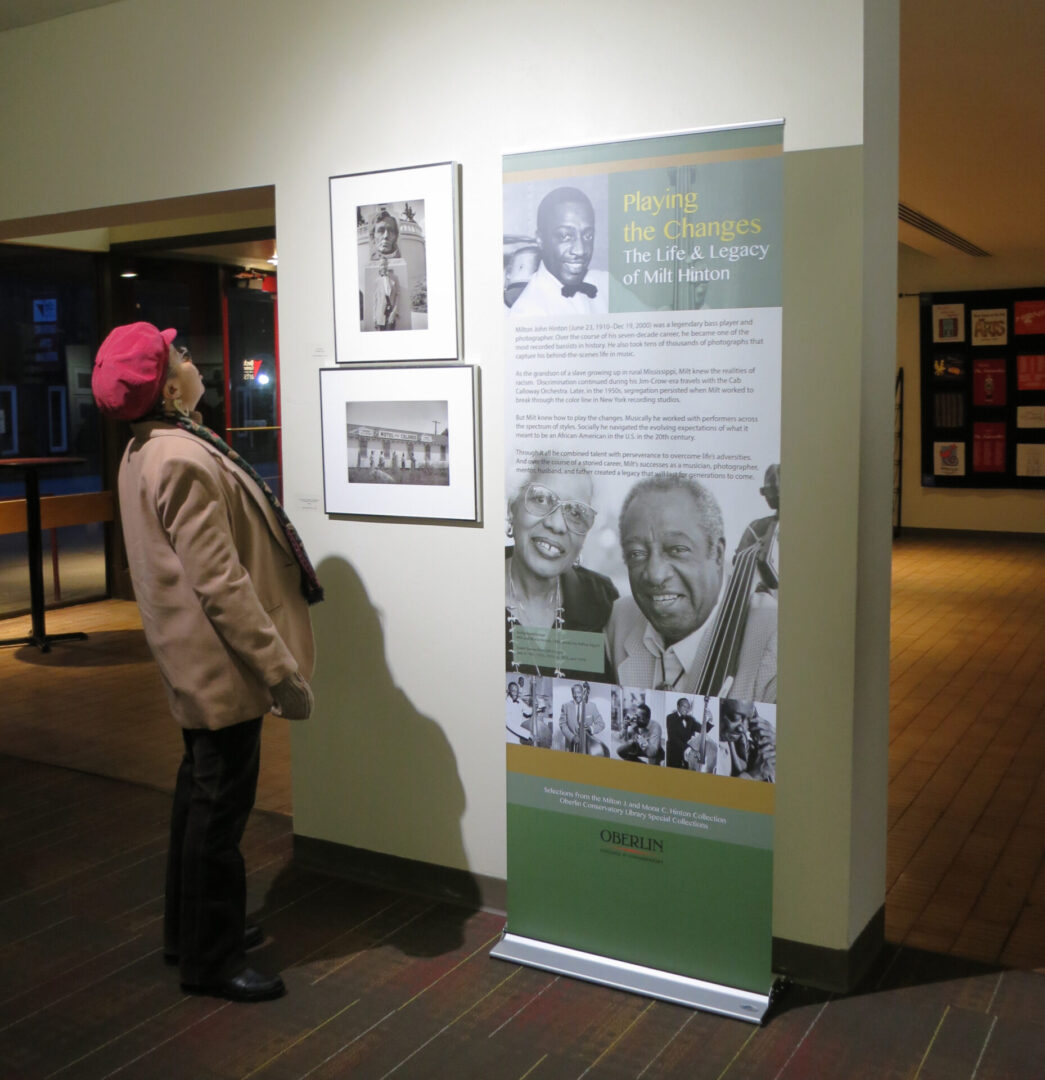 Street Naming -
St. Albans, Queens
Throughout his seven-decade career, Milt received numerous honors including The Jazz Master Award from the National Endowment for the Arts (1993), the Downbeat Magazine Critics Award (2000), induction into the ASCAP "Wall of Frame" (2000), and eight honorary doctorates from colleges and universities. In 2006, the street on which Milt and Mona lived for 50 years was designated "Milt Hinton Place."